Sigh. I caved.
Check it: (oldest to newest.)
About half a year old. Random sketch that I just started without having much of a purpose. His powers changed, but I still have the character hanging around, tied to a story idea.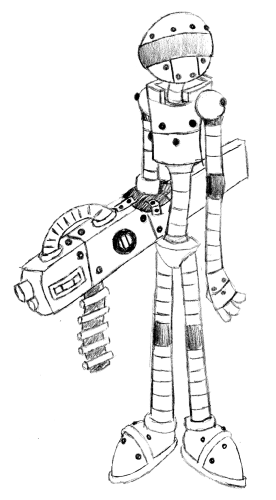 Much newer. The scanner went wonky on this, and turned it into some kind of black-and-white thing instead of my usual greyscale.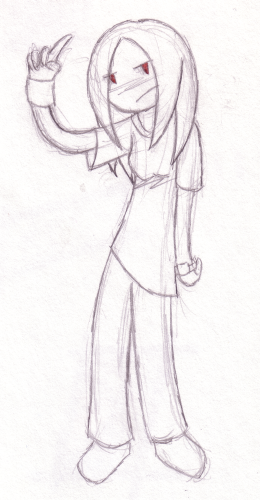 Self-portrait of self. Some kind of alternate style I was fooling with. Yes, my arms can really bend like that.
Fudging around after I drew a Katamari Solaria for Shuryou. I scribbled Raiden and Anti in Katamari form, but the stupid lead smudged, and I didn't like it much anyways.
A pretty lousy rendition of one of my subplot Navis, Memory. He's short, but a total rock, so he'll kick you in the kneecaps until you die. : D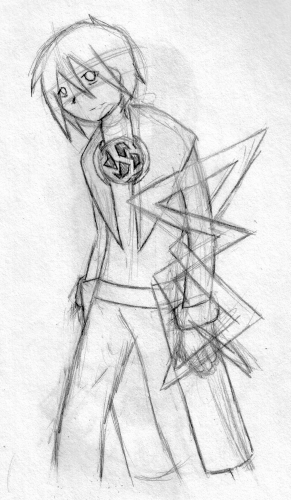 A nasty, nasty sketch of Raiden. It was just to finalize his design, and figure out approximately what kind of shrimp I was dealing with, and letting myself know that I suck at drawing lightning.
My most recent thing--done in today's Science class. It's Fuijin, Raiden's twin-unit. I was just messing with poses. That big black thing is supposed to be a hole through net-dimensions to reach the really windy one, the wind of which Fuijin manipulates to attack.
Hint: he's a guy. :'D
QUESTIONS COMMENTS CRITIQUE PLZ PLZ PLZ.