I would be happy if such a thing existed but I don't think anyone has the patience to make it happen. Instead, I just wanted to see what kind of ideas you guys had regarding your own characters in a fighting game. Just come up with Movesets and commands and descriptions or whatever you can think up.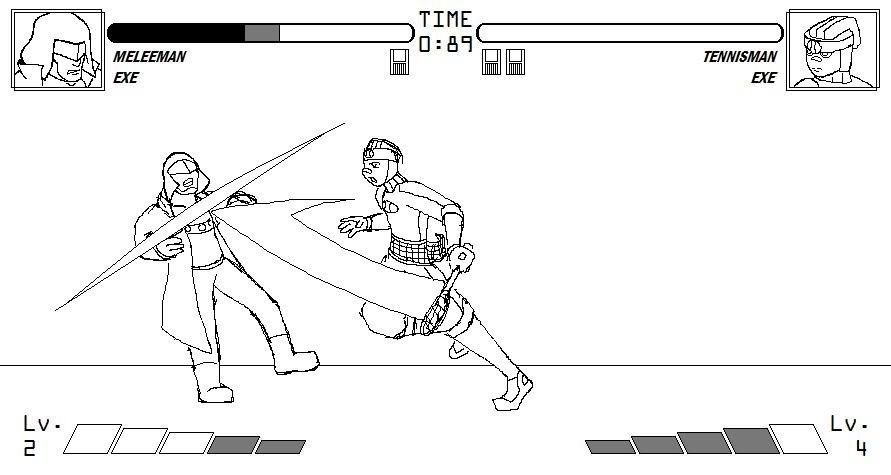 General Terminology:
P = punch
K = kick
QCF/QCB = Quarter-Circle Forward/Back
HCF/HCB = Half-Circle Forward/Back
DP/RDP = (reverse)Dragon Punch (Forward, Down, Down-Forward)
CBF/CDU = Charge back-forward/down-up (Hold down/back for one second and then tap forward/up)
360, 720, etc = Full Circle, Two Full Circles, etc
Tennisman
Special Attacks
Quick Serve (QCF + P)
- Serves a tennis ball in a downward angle that bounces off the floor. Strength of button pressed determines distance away from Tennisman and damage.
Netplay (HCB + K)
- Creates a net in front of Tennisman that absorbs projectiles to heal him. Disappears after half a second to one and a half seconds. Strength of attack determines duration and distance away from Tennisman.
OUT! (DP + P)
- A high arcing wave of his racket that knocks the opponent across the screen. Even if this attack doesn't connect, the opponent is still pushed back a short distance.
Split Step (RDP + PP/KK)
- A teleporting move that warps Tennisman just in front of or just behind his opponent.
Super Attacks
Ace Serve (QCF x 2 + P)
Powerfully serves four tennis balls in rapid succession
Windracket (F, HCF + P)
A single powerful swing of his racket that smashes the opponent across the screen.