As I've already passed around the chat, we're planning to have a Touhou Hisoutensoku (12.3) tournament here at RE:RN. While Aim and I tried to reach everyone we thought would be interested, please let us know if we missed you so we can add you to the lineup. Information on 12.3 can be found
here
(Until February 1st).
The format will work on a points system. Everyone fights everyone, and you can schedule your match whenever you wish. The current roster, in diagram format:
1. Aim
2. Heat
3. Shuryou
4. Knight
5. DNR
6. Von Dare
7. Rai
8. Geki
9. Asator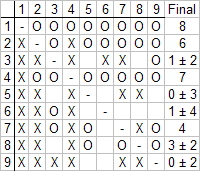 The winner of a match is the one with a O in his row.
Each person fights other person, so that 1 fights 2-9. The format is best 2 out of 3, so each combatant has matches with his opponent until one of them has won 2. The one who wins 2 will have earn a point. Obviously, this means the maximum any one contender can earn is 8. The winner of the tournament is the one who gathers the most points. Any ties will be broken by matches between the tied contenders, unless one forfeits the position without a match.
NOTE: A MATCH IS NOT A TOURNEY MATCH UNLESS BOTH CONTENDERS CONFIRM SO BEFOREHAND. This is to allow casual gameplay to continue in the midst of the tournament. Make sure both players are clearly aware and have consented to the tourney match before beginning.
When a best 2-out-of-3 winner is determined between two opponents, they should inform Aim or me of the results so we can update the current rankings. It would be appreciated by me if you would also include which characters you used (you don't have to know the names, if you say "vampire" or "samurai" I'll get who you mean). If you don't, that's not going to be a problem.
You may choose any character you wish and can change between matches with the same opponent or between opponents. Basically, free selection.
We're planning to use Hamachi to connect, although I know that's not possible for everyone. If Hamachi gives you problems, let us know so we can try and troubleshoot or see if ComodoVPN might solve your problems. Please don't throw your match because of connection issues before you see us.
One other thing. We can't really offer much of a reward for this, obviously not an in-RP one because this in no way relates to the RP. I had figured we might end up making this completely casual, but just to make things a bit more interesting, I'll offer something up. The winner can request a drawing from me of any particular Touhou character they wish (need not be from 12.3). If you have no interest in Touhou (or my drawings ;_; ), you can defer it to someone else or pass, at which point the offer will be handed down to the next runner up.
Any questions? Catch me in the chat, PM me, or simply post here.
Edit: Agreement rules added.
Edit: Last standings 3/5.