... I guess I can do passably well on a computer.
This is an av ZS requested. It took an hour or so, and I'm fairly proud of it. Yes, I'm a gradient whore when it comes to backgrounds.
And, uh... Yeah, I can still see a buncha things wrong with it The legs are too short, and the left arm is so much longer than the right, and the fingers around the Saber, while intended to be clenched, just look stubby... Live and learn, I guess.
However, my request/s? still stand, since I'm no good at anything but demi-chibi stuff when it comes to computer art.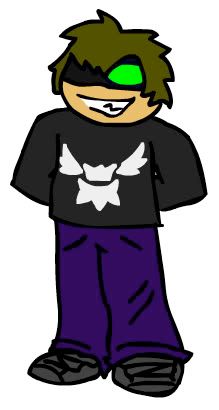 Me? Nah, couldn't be.
Self-portrait in A-minor. You may recognise this from my av. You may not, but in that case you'd be well advised to get your eyes checked.
This is going to be a fairly minor thing... I suffer from constant artist's block, so I never have any ideas on what to draw. Therefore, I rarely draw...
But I do take requests. For free, since every request gives me an opportunity to practice.