Obtained in:
Wandering Nowhere
- 8 FXP
Tests of Skill and Luck
- 24 FXP
[Soul Cross: Rhea]
(Normal/Sword)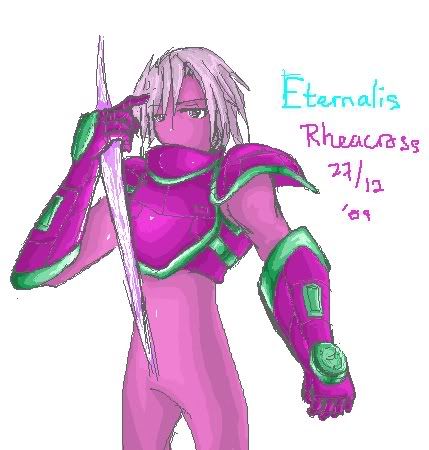 The friendship bond between Eternalis and Rhea is made into material form through this Soul Cross. Eternalis' dark blue armor loses its color, replaced by a dark purple that resembles a slight pink. It also changes shape, turning the chestplate into a more pronounced version that joins up with large shoulder plates. The armor that used to cover his forearms is now gone, and his lower arms are now covered in heavy purple gauntlets halfway up, which includes Rhea's emblem on the back of the hands. The emblem is, in actuality, the energy sword generator found on Rhea, which can create a light purple blade of energy that Eternalis can grasp and wave around as if it were made of solid materials. His leg armor, which used to cover the whole leg, is now simply replaced with simple purple greaves. His sky-blue watery composition is solidified somewhat to form what can be seen as a muscular, lean form. However, it still retains its aquatic properties and appearance. His head, which was formless before, is now moulded into the shape of a man's head. The part of the water that forms the hair is shaped into long strands of silvery purple hair that flows down to his shoulder plates. His circular yellow eyes change into serious-looking dark purple eyes.
Signature Attacks:
Active:
Bit Breaker
| Null 60 | Break, Slashing | 2 TCD | 80 SP |
The energy sword generator creates a bright red energy blade, imbued with deadly cutting properties. It is designed to cut clean through object-base materials, usually found in shields and armor.