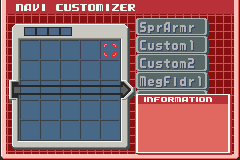 Thank you for choosing the News Server. And now to our top story.
SciLab, in co-operation with NanoPengi, released the newest version of their popular NaviCust program. This program comes free with the Link PET, even if you got it as a gift or part exchange. The following is included in the package...
The basic NaviCust pack includes the following: Undershirt, Attack+1, Speed +1 and Charge +1.
Each program has a specific size, which uses up part of the NaviCust's maximum capacity. For more details, please read the technical articles that can be found strewn across the net.