(Grim's sprite)
Name: Red Riding Hood.exe
Gender: Female
Element: Wood
Subtype: Ground [A late request for more power and an appetite for terrain]
Description: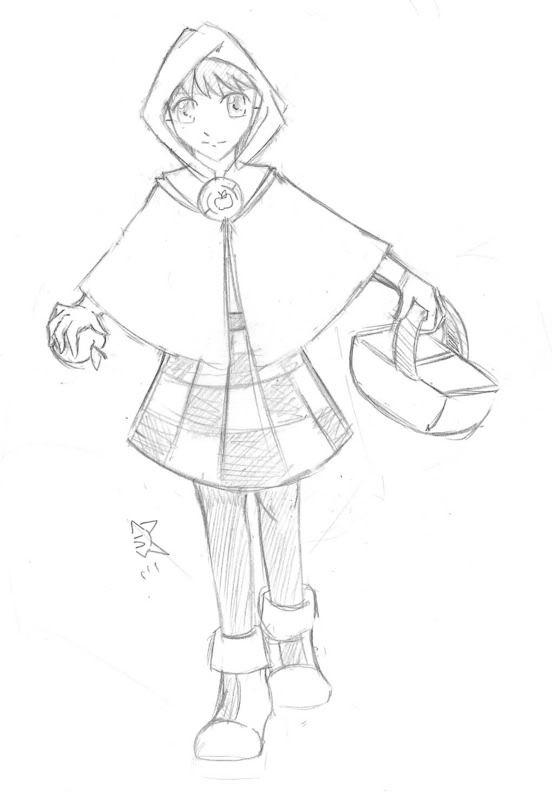 Lunar's Drawing
Physical Description: Red stands at the net equivalent of about 4'6" and has all the playfulness of a twelve-year old. Her hair is short and brunette, cut to just above shoulder-length, her skin is a healthy peach, and her eyes possess chocolate brown depth in color.
An article of clothing Red is rarely seen without is a hooded cloak dyed blood-red, underneath which can only be described as a typical school uniform. White button-up short sleeve collared shirt, a knee-length blue-and-white checkered skirt, black socks that go up to her just below her thighs, and brown loafers. Slung across her left shoulder is her trusty picnic basket, used for storage of who-knows-what.
Her navi symbol is adorned on the right side of her picnic basket and on the neckline of the cloak. It depicts a juicy red apple with a stem on top and green leaf coming out of the right side of the latter against a navy blue background.
Personality: Cheerful, honest, and playful, Red sees life as full of fun and enjoyment. A true optimist, she isn't one to be proved otherwise and tries her best in everything she does. Red enjoys making friends most of all, probably only second to eating delicious snacks. A common trait she shares with her operator.
Having faced hard times quite recently, Red takes things as they are and adapts how to react to events as they come.
Custom Weapon: Picnic Basket, It's a picnic basket filled with Cherry blossom petals. She throws the petals at her opponent to do damage. The charge attack is that she throws a lot of petals at her opponent or she manifests the cherry blossoms into some giant fist or something and sends it flying at the enemy.
Signature Attacks: See below