Name:
Dark.exe
Gender:
Male
Element:
Normal
Type:
Sword
Appearance: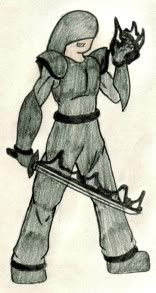 Dark is 6'6" tall, and wears a dark gray armor with black trimming. His body has the physique of being sleek, yet he holds an air of strength around him. Shadows always wraps and bends slightly when Dark is near them, as it seems his presence disturbs them.
Personality:
Dark is a cold person. You can feel his unseen eyes judge you whenever he talks to you. He has little regard for either himself nor any ally.
Custom Weapon:
A sharp thin sword in his right hand. It shimmers with a black aura when used.
Signature AttacksTwilight Link
-
Dark can force the shadows to bend and twist beyond what reality would normally permit. Who can trust his own eyes when things are not what they appear to be?
Dark creates a link between himself and the target. For the rest of the turn, all damage or healing that Dark takes will affect the target instead, and vice versa. A maximum of 60 health on Dark or the target can be changed this way. Can only be used once every 3 turn.